Koperkasa declares dividend for 2009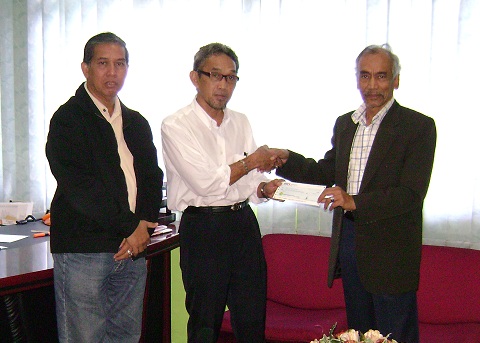 DIVIDEND PAYOUT: Alif (right) presenting a dividend cheque to a member Saidi Ismail
KUCHING: Koperasi Koperkasa Sarawak Berhad has declared its dividend and interests for members for year 2009.
Koperkasa ChairmanAlif Shah announced 3.5 per cent dividend payout for monthly contributors, while for every fiver per cent share and saving returns is 1.5 per cent.
Members who are in Kuching area and nearby districts can get their dividend and cash at Koperkasa headquarters if the amount does not exceed RM300.
For those living in other parts of the state can go to Koperkasa branch offices and the dividends that are paid through cheques.
Those who have not claimed their returns and dividends by end 2011, Koperkasa will transfer these dividends to special savings and withdrawal will be based on stipulated terms.
On another matter, Koperkasa has introduced self-financing Syariah concept up to RM200,000 and approval is within three working days.
He also announced that Koperkasa would hold a special delegates meeting to amend its procedures for 'Ar-Rahnu Financing'.
He added that they had made it easier for monthly savings withdrawal.
He urged civil servants who had yet to become members to register themselves as soon as possible.
Borneo Post, 16/12/2010